I have no idea why I am sharing this, but this is my current workspace: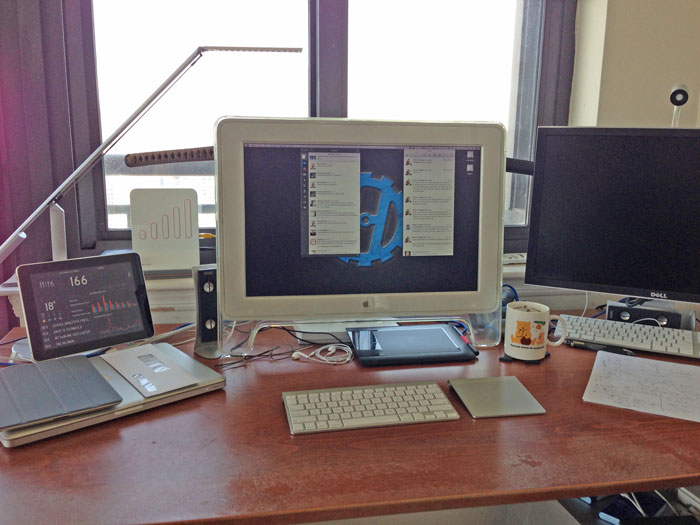 On and around it you will find (left-to-right-ish):
My original iPad 1 running Panic's Status Board on a Twelve South Compass Stand for iPad.
A Koncept Equo Gen 3 desk lamp, stylish and bright.
An AT&T MicroCell so I can get Mobile Phone service at home in Manhattan!
My iPad 3 WiFi 64GB, gray Apple smart cover.
My primary computer, a 15-inch Mid-2009 MacBook Pro with dual 3.06Ghz CPUs, 8GB RAM, a 240GB OWC Mercury Electra 3G SSD in an OWC Data Doubler and the original 500GB HDD.
My rent bill.
A classic Apple Cinema Display 23" connected to the laptop via an old Apple DVI to ADC Display Adapter and a Mini DisplayPort to DVI adapter, and it still works great.
Altec Lansing speakers, about as old as the hills but still sound adequate for my needs.
A Wacom Bamboo Pen tablet for artwork.
An ancient Dell 2408WFP 24" monitor (that does not render properly with OS X), attached to my 2008 Mac Pro server (8 core, 32GB RAM, 4.5TB disk - hidden below the desk) and my original iSight above it.
On top of the Mac Pro tower is my trusty HP 12C financial calculator, an Airport Extreme and several old WD 500GB My Passport drives - link to newer model - that I use for backups.
My favorite Zebra Sarasa 0.7 Gel Retractable pen.
The desk is a Galant with T-Leg from Ikea, 10 years old and starting to peel and warp.
This is where I work and spend my days. What does yours look like and what do you use - please link in the comments?
Warning: Some links on this page are affiliate links; I get a few pennies if you buy any of these products.
Follow the author as @hiltmon on Twitter and @hiltmon on App.Net. Mute #xpost on one.